The entire workflow was designed so that you don't have to spend hours learning how to record, edit, and export your tutorials. The main features of ScreenToVideo tools are listed below but you can find more in the application.
START RECORDING WITH JUST ONE CLICK

Record from your entire screen, an application window or a chosen area
Record webcam to add a personal touch to your video
Record video and audio at the same time
Add voice-over narration at capture time
Capture any sound played by your computer
Set the custom size and capture rate to fit your needs
Use our Timer to be prepared for a great start
EDIT A VIDEO WITH POWERFUL TOOLS
Import images and videos with different formats
You can add and customize shapes, images, texts over the video
Set opacity, mask, zoom and pan, chroma key to your videos
Customizable video effects, sketch animations and professional transitions
Use zoom area to focus a viewer's attention
Stack options to arrange your media items in the order you need inside a presentation
Many other options that allow you to edit videos like a pro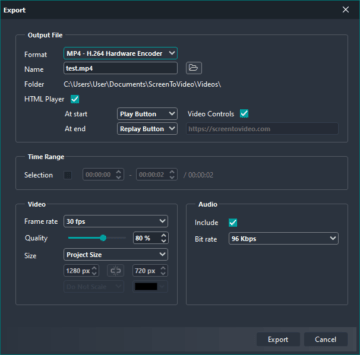 Export videos in Full HD, QHD or 4K UHD
Set the frame rate you need when you export your video
Save videos as .mp4 or .wmv file for best compatibility with all devices
We use H.264 or HEVC encoder, software and hardware encoding supported
Export a frame or the whole project as an animated GIF file. The animated GIF format is ideal for displaying simple animations on the web
Let your audience control the video in any browser by embedding it in an HTML player and adding interactive actions.
ScreenToVideo has a clean and user-friendly interface, everything is just one click away
Create a project, save it and continue later
The timeline is a great feature for keeping track of your video, change the sequences and timing of objects
All features are intuitively accessible so that everyone can use them right away with no prior experience in video editing